Babys in museum – normal in Scandinavia, new to Germans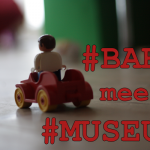 Hanne Friis' 'Portal', et av verkene vi ser nærmere på under babyomvisningen i Skulpturbiennalen torsdag kl 13.00! pic.twitter.com/MqZHCpNrBQ

— The Vigeland Museum (@vigelandmuseum) 5. November 2013
This tweet, sent by the Norwegian Kunstmuseum Vigeland Museum piqued my curiosity. By the by a guided tour for babies was mentioned, a concept I didn't know from German museums.
A traditionally ignored target group in German museums
Baby… what? When I think of German museums and babies I immediately picture that buggies have to stay outside because of limited space or for the sake of the cleaner. Museum visitors rarely find diaper changing tables and crying babies are acknowledged with rather irritated looks by other visitors. (Here you find a small field report by Caroline Gabbert in German).
When asked the Vigeland Museum answers immediately, I should just take my baby, a buggy and meet 1 pm in the museum. Unfortunatelly I don't live in Oslo, but the idea is great! It's an opportunity for museums to address a target group, that traditionally has spare time in the daytime and is longing for distraction. However, probably because of the reasons named above, they don't aren't seen in museums that often.
Baby meets art – Normal in Scandinavia
A quick Google search reveals that the concept of guided tour for parents with small babies is a well-known concept in Scandinavia, at least since 2010. Not only the Vigeland Museum, also Stavanger Museum has special tours for parents with babies and does even offer baby carriers, so that babies can take part at eye level. Once a month the Haugar Vestfold Kunstmuseum invites on tours like that and in the Munch Museum the concept is fittingly called "BabySkrik" (Babyscream). In Denmark you find similar offers at the art museum Kunsten in Aalborg, where parents can take hand and foot casts of their babies and a nurse takes part to answer medical questions.
A discussion worth following #museumbabies
Also some German and Austrian museums have discovered the concept, but they still are very rare. Maybe that's why the most museums taking part in today's #museumbabies discussion on Twitter are from UK and abroad.
Find some field reports / blog posts on Children in museums here:
– Jenni Fuchs unter der Rubrik Kids in Museums
– Tanja Praske with her series Kinder, Museum und Kultur (in German)
– Caroline Gabbert in her blog Sammeln | Horten | Ordnen (in German)
(Published February 13th 2014)